Sale price
£42.00
Regular price
£47.00
Unit price
per
Sale
Sold out

Skin Exfoliation Routine
Reduce the Appearance of Cellulite
Fights Acne Breakouts
Reduces Stretch-Marks

View full details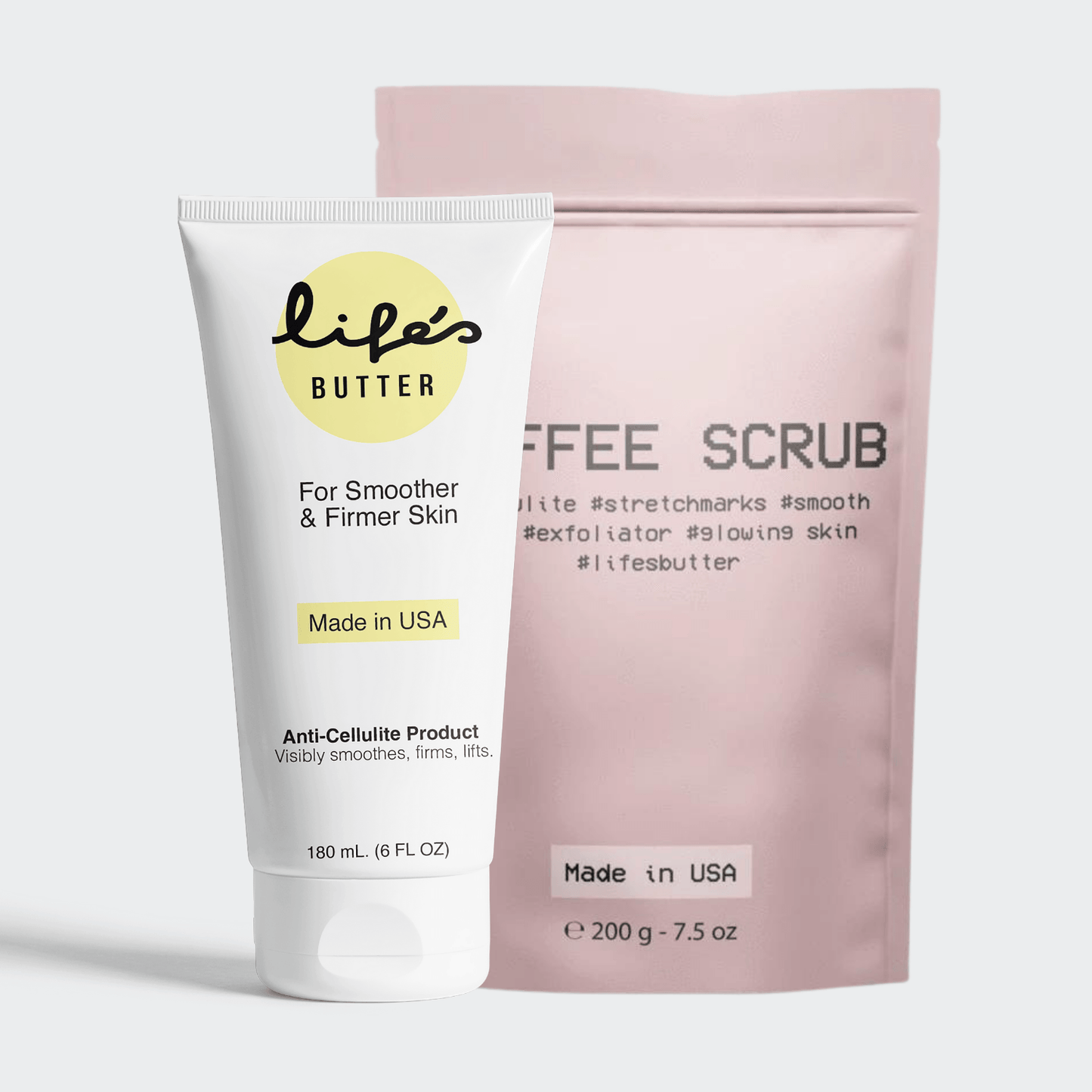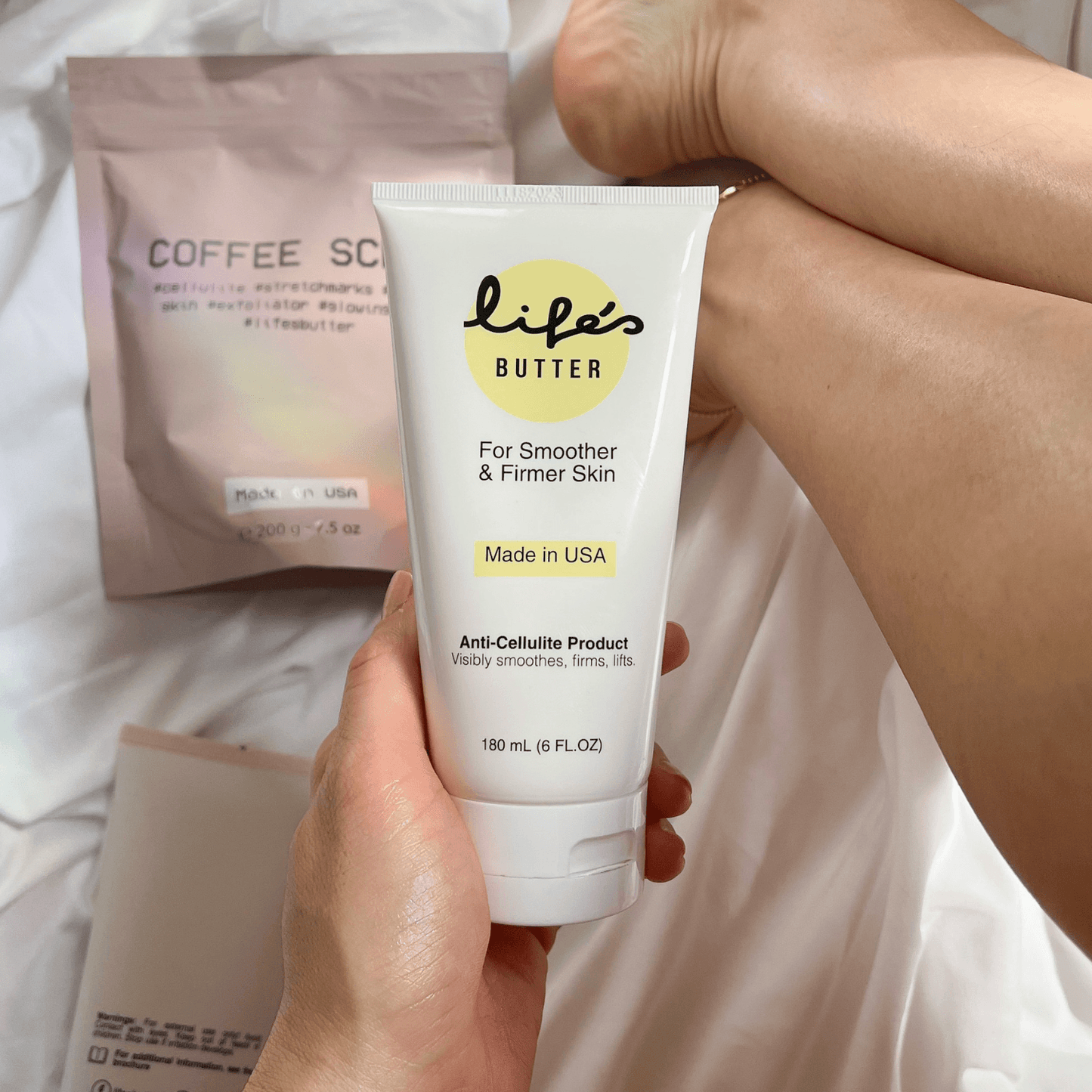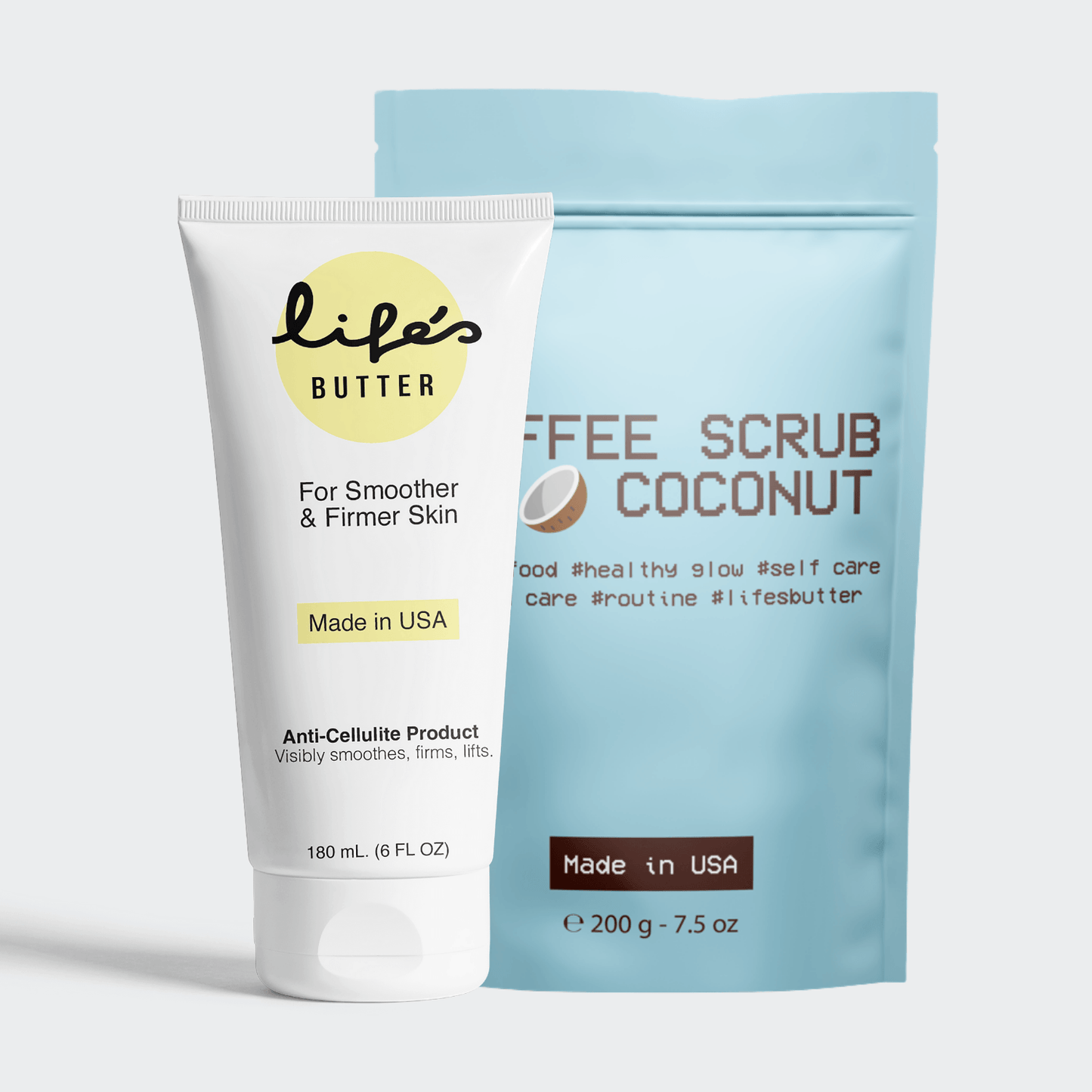 What is The Two-Step Skincare Routine?
Introducing the ultimate exfoliation duo: Life's Butter Anti-Cellulite Cream + Coffee Scrub. No skincare routine is complete without exfoliation, and this powerful bundle takes your exfoliation step to the next level.
The Coffee Scrub in this duo features two potent exfoliating ingredients: dead sea salt and fair-trade Kona coffee. These large particles effectively remove dead skin cells and impurities, promoting new skin cell growth for a polished and revitalized complexion.
After exfoliation, it's crucial to moisturize, and that's where Life's Butter Anti-Cellulite Cream comes in. Enriched with ultra-hydrating extracts like coconut and carrageen, this cream ensures your skin remains moisturized, preventing dryness, irritation, and sensitivity. Additionally, exfoliation primes the skin for other products to work more efficiently, allowing the anti-cellulite ingredients in this cream to target and minimize the appearance of cellulite, bumps, and bulges on the skin.
To make your experience even more delightful, remember to customize your coffee scrub flavor!
Results are noticeable immediately after using this duo, but for long-lasting effects, consistency is key. While individual results may vary, high-quality anti-cellulite products like these can take up to three months to show significant results. Stay patient and be consistent to achieve your desired outcome.
Here's how to correctly apply this powerful duo:
Scoop a handful of Life's Butter Coffee Scrub and gently massage it onto the affected areas using circular motions. Avoid over-exfoliating by limiting the massage to a few times.
Leave the scrub on your skin for a few minutes to maximize results, or rinse it off immediately if preferred.
Apply a dollop of the anti-cellulite cream to your fingers and massage it over the exfoliated areas. Experience the refreshing cooling effect as the hydrating ingredients begin their work.
Repeat this process three times a week for optimal results. If you experience sensitivity, reduce usage to once a week.
Unleash the power of this incredible duo and reveal smoother, healthier-looking skin. Elevate your skincare routine with Life's Butter Anti-Cellulite Cream + Scrub bundle for an exfoliation experience like no other.
Superstar Ingredients
L-Carnitine

This amino acid is a common ingredient in many cellulite creams due to its fat-burning properties. It works by aiding the body in oxidizing and burning stored fats, resulting in skin that's noticeably smoother and free of bumps and bulges.

Coenzyme Q10

A natural antioxidant in the body that helps the cells grow. A drop in the natural levels of this antioxidant that happens as we get older contributes to aging skin. So adding it back makes sense right?

Nelumbo nucifera Leaf Extract

This aquatic plant that originated from East Asia boasts of some serious anti-inflammatory and antioxidant effects, according to studies published in the journals Nutrition Research and Practice and Macromolecules. It also has some anti-wrinkle and skin brightening effects, according to this 2010 study from the Korean Journal of Chemical Engineering.

Dead Sea Salt

Rich with nutrients like magnesium, calcium, sulfur, and zin, Dead Sea salt has wonderful anti-fungal, antimicrobial, and antibacterial properties that help cleanse and detoxify the pores by driving out oils, dirt, and other impurities. This can help to eliminate acne, blackheads, and whiteheads.

Shea Butter

Shea butter is a skin superfood that comes from the seeds of the fruit of the Shea (Karite) tree. Some of its amazing benefits are: Reduces stretch marks, reduces skin inflammation, provides relief to itchy and peeling skin. Shea Butter may offer mild UV protection (up to SPF 6) and provides the skin with essential fatty acids and the nutrients necessary for collagen production.

Fair Trade Kona Coffee

Caffeine found in coffee scrubs improves blood circulation, may reduce the appearance of cellulite, and gives the skin a more even tone look. After exfoliating on a regular basis, you will notice the skin is able to absorb moisture more effectively.