Sale price
$49.99
Regular price
$69.99
Unit price
per
Sale
Sold out

Dry Brush worth $19.99 For FREE On Every 3 Pack
Best for Cellulite On Leg, Arm and Stomach Areas
Worked for Over 90% of the Users
NO MSM or Parabens Used
Works On All Types of Cellulites and It's Hypoallergenic
Cruelty-Free
Gel formula Feels very lightweight on the skin
Custom Blend of Natural Ingredients

View full details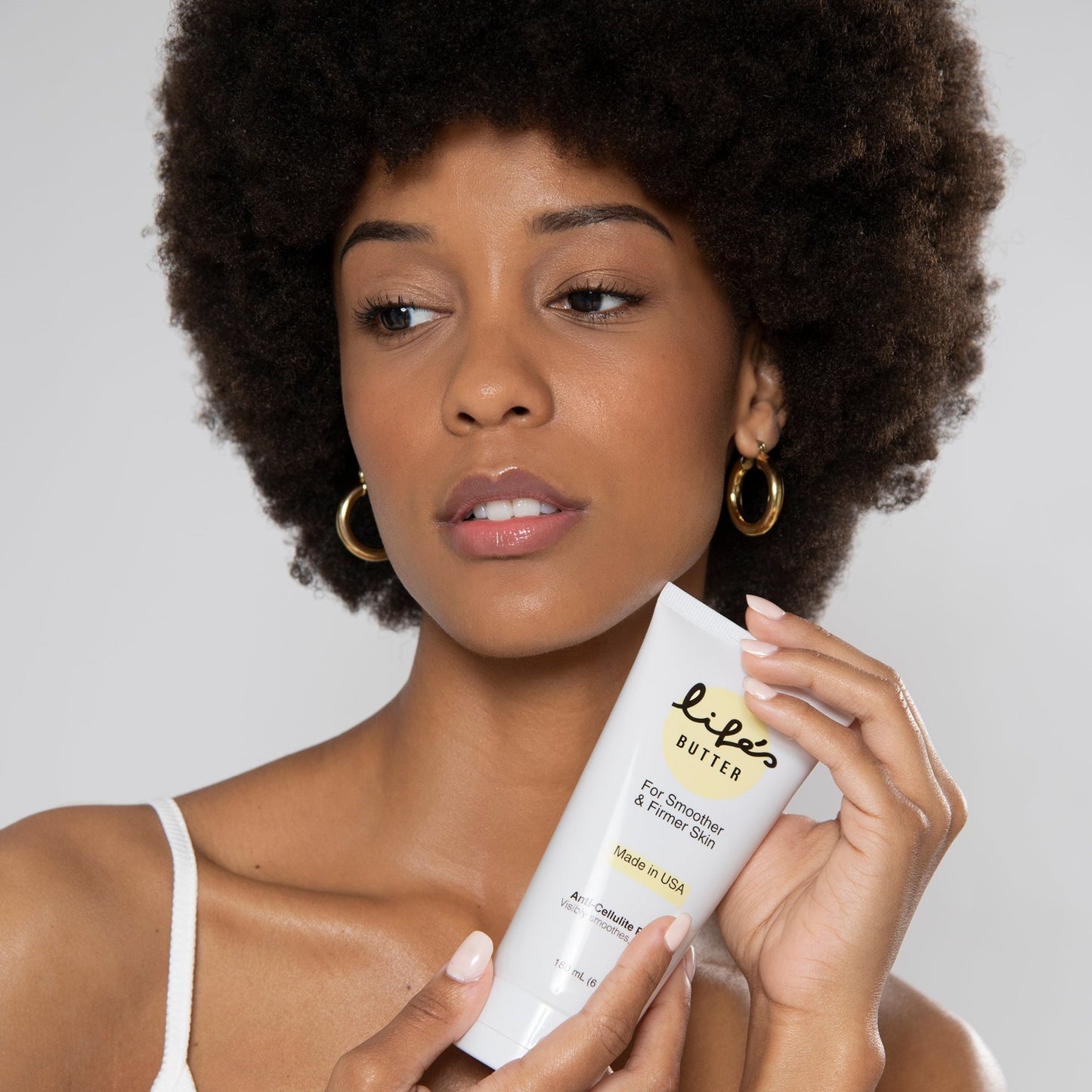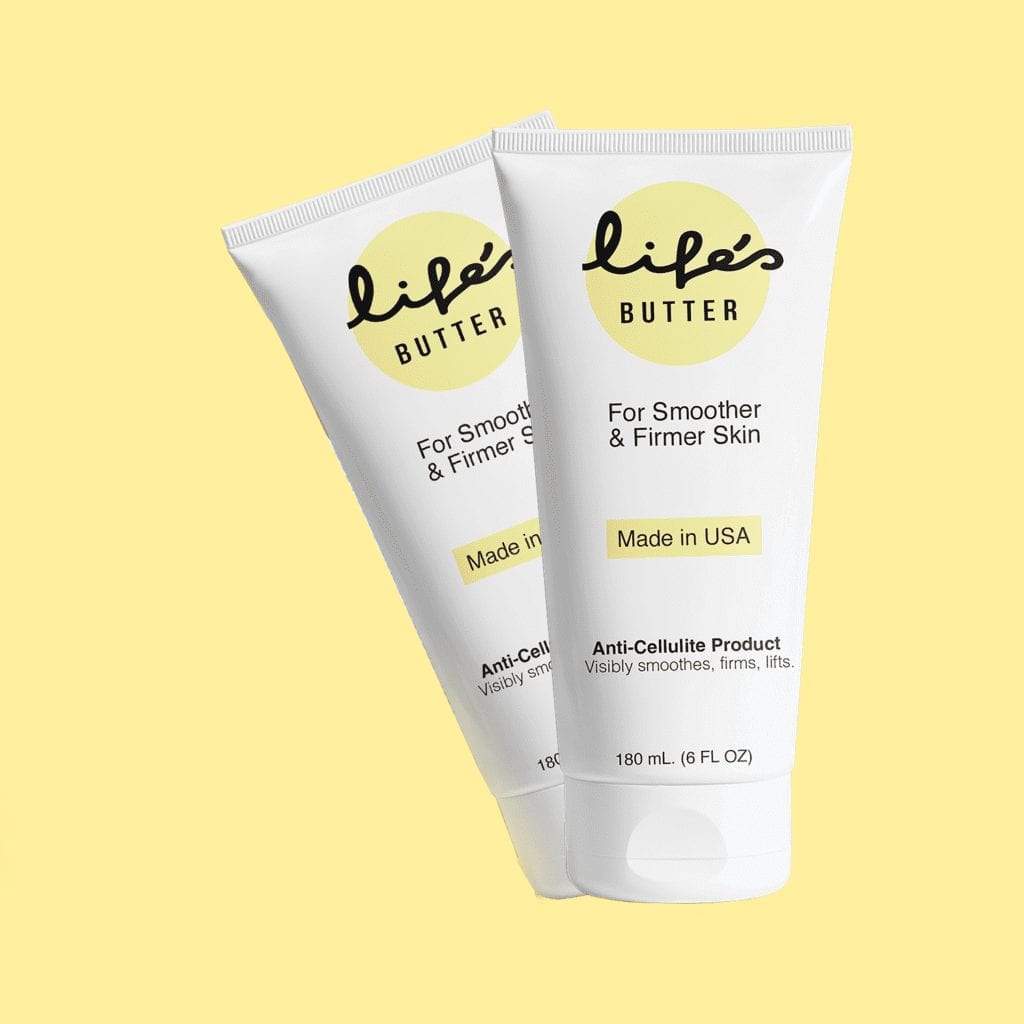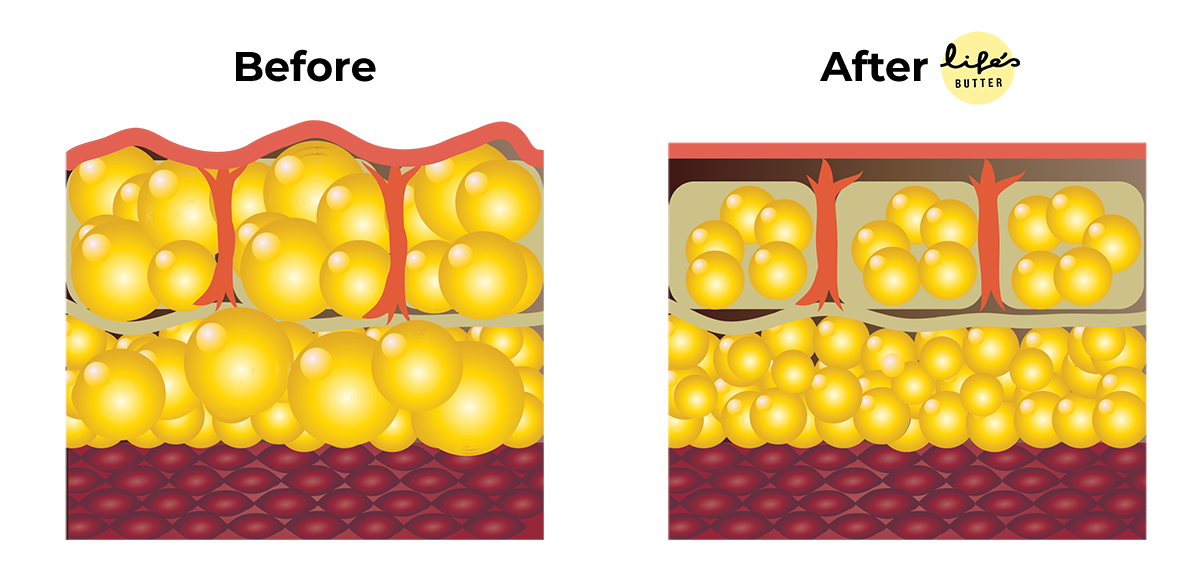 WHAT IS LIFE'S BUTTER?
Life's Butter Anti-Cellulite Cream is an innovative, confidence-boosting technology, scientifically formulated with L-carnitine and Coenzyme Q10. The product provides a strong moisturizing effect while the powerful formula reduces the volume of the fat cells that cause the appearance of cellulite.
The L-Carnitine, well known for its fat-burning properties, provides additional results and improves the overall appearance of the skin, leaving it smooth, and cellulite-free. That makes Life's Butter Anti-Cellulite Cream the obvious choice when it comes to the best topical, anti-cellulite products.
HOW LONG IT TAKES TO SEE RESULTS?
Cellulite is a reality for more than 90% of women and although it is harmless, it makes the affected areas unsightly. The exact cause is unknown, but it is assumed that the different lifestyle choices and skin types have a different impact on the severity of the cellulite.
While using special clinically tested formulas like the one found in Life's Butter, can be extremely effective, it requires consistent use for at least 4 to 6 weeks. Being consistent is the key to all successful skincare regimens.
LIFE'S BUTTER + DRY BRUSHING
Dry brushing, as the term suggests, quite literally entails brushing your bare skin - thighs, butt, arms, you name it with a soft-bristled brush in order to give skin a fresher, smoother appearance. The motion improves circulation and helps flush waste and toxins by stimulating the lymphatic system. Doing all of that can certainly parlay into skin radiance and glow for a plumper appearance."
Another power of dry brushing is the element of exfoliation. While exfoliating it helps remove dry, dead skin cells and makes your skin more susceptible to moisture and hydration. "Exfoliation really is a tenant of healthy, younger-looking skin.
MAIN INGREDIENTS
L-Carnitine

This amino acid is a common ingredient in many cellulite creams due to its fat-burning properties. It works by aiding the body in oxidizing and burning stored fats, resulting in skin that's noticeably smoother and free of bumps and bulges.

Nelumbo nucifera Leaf Extract

This aquatic plant that originated from East Asia boasts of some serious anti-inflammatory and antioxidant effects, according to studies published in the journals Nutrition Research and Practice and Macromolecules. It also has some anti-wrinkle and skin brightening effects, according to this 2010 study from the Korean Journal of Chemical Engineering.

Chondrus Crispus Extract

Otherwise known as carrageen, this seaweed is loaded with vitamins and minerals that may help nourish the skin to make it more radiant and healthier-looking. It also possesses some ability to protect against UV rays due to the presence of UV-absorbing mycosporine-like amino acids, according to this old study published in the journal Planta.

Coconut Extract

This substance is hailed for its outstanding nourishing and hydrating properties, hence its use in many skin care products today. It goes into the deeper layers of the skin to ensure superior moisturizing and soft-softening effects.

Coenzyme Q10

A natural antioxidant in the body that helps the cells grow. A drop in the natural levels of this antioxidant that happens as we get older contributes to aging skin. So adding it back makes sense right?
Collapsible content
Full Ingredients List

Water (Aqua), Alcohol Denat. Butylene Glycol, Glycerin, Cyclopentasiloxane, Caprylyl Methicone, Caprylic/Capric Triglycerides (Coconut Oil + Glycerin), Cetearyl Alcohol, Glyceryl Stearate, Carnitine, Chondrus Crispus Extract (Carrageenan), Nelumbo Nucifera Flower Extract (Lotus Flower Extract), Ubiquinone (Coenzyme Q10), Maltodextrin, PEG-12 Dimethicone/PPG-20 Crosspolymer, Carbomer, Ethylhexylglycerin, Phenoxyethanol, Sodium Hydroxide, Fragrance.